Hi beauties! I wish you a productive week ahead. As promised, today I'm doing post on my lovely trip to Vienna. Sorry it took me longer to prepare it but it's finally here and I'm excited to share everything with you. So this trip was totally unplanned. When I found out from my family, I was so happy and filled with joy because I really wanted to travel lately. There's just something so amazing about traveling that I love - it's not just getting to destination and exploring it, for me it's actual traveling. I love listening to music, eating snacks and just watching beautiful nature through the window. I know a lot of people hate traveling or are scared, get sick etc. but that's totally not case with me! I'm real traveler - although I don't get to travel a lot. So this was actually a 15 hours road trip. We traveled for 9 hours, then took a break to sleep and recover and continued the following morning right to Vienna. Here are few places you must visit if you ever plan to go there.
Museum of Natural History
This was my first exploring destination. I visited Louvre in Paris but this museum is really beautiful as well and I had lovely time visiting around. I also learned a lot of new things and I feel like whenever you travel that's actually the most important thing. To come home with knowledge and new experience which you'll always remember. The museum building opened in 1889. at the same time as the Kunsthistorisches Museum - which sadly I didn't get chance or time to visit. However this photo was taken in garden of museum.
Rathaus
Wiener Rathaus is the city hall of Vienna, located on Rathausplatz in the Innere Stadt district. Constructed from 1872 to 1883 in a Neo-Gothic style. When I saw it, I was literally speechless.
Belvedere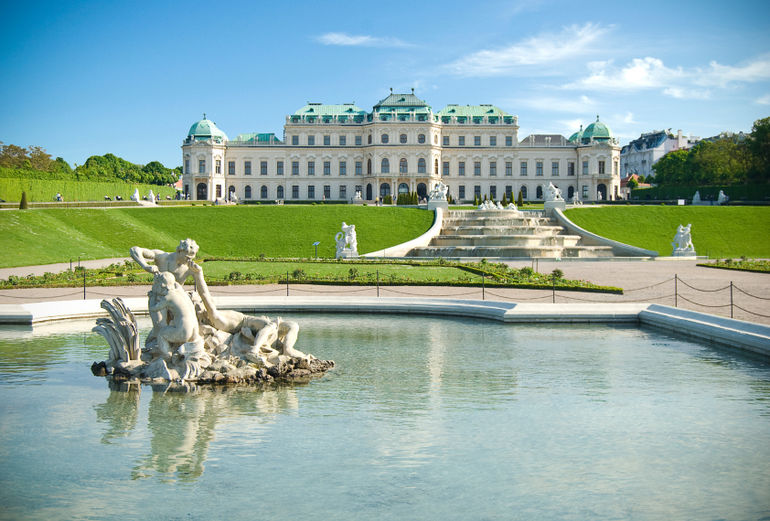 Schonbrunn Palace
Both of these are palace. I can't really choose a favorite because they are special in their own way. Sconbrunn's is garden is filled with tons of pretty flowers and Belveder's pool in front is just as amazing. I didn't go inside just because we didn't have a lot of time but next time I'm sure I'll visit that too.

Pandorf - best shopping place (ever)
Of course - photo of my favorite store in world - UGG. I haven't shared this obsession with you before but you're gonna see a lot of UGGs in my winter posts because those are the boots I wear literally every single day in winter. However, this store is based in Parndorf which is Outlet Shopping Center and I bought a lot of stuff from there which I'm very excited to do a haul on (probably in Thursday's post). I also went shopping in Mariahilfer street but I'll write more about that in next post.
I hope you enjoyed reading this. It was hard for me to put whole trip into one post but I tried my best. Vienna is just beautiful city and I was very surprised with how gorgeous each building is and how clean it is and just amazing there. I'd love to visit it again. Let me know if you ever traveled to Austria and if you like it.